Aluminium Front Doors
Bespoke aesthetics that harmonises security, performance and style, on every home.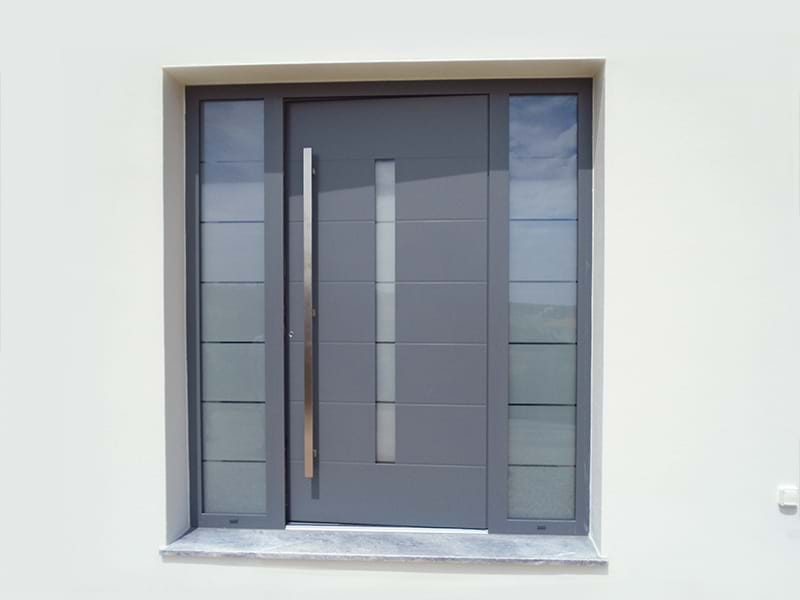 Mestre Raposa's Aluminium Front Doors
Aluminium with thermal break
An entrance door is an essential part of every home's style and not just its primary closing system. Mestre Raposa's aluminium front doors will fit perfectly into the architecture of each project and will allow for a very personal touch to be added to each home.
Insulation and burglar resistance
Our wide range of aluminium front doors offers, not only high thermal insulation, but an elevated security performance, with elements that can reach up to the RC2 class. Their increased security is also assured by a multitude of safety options available, that include, amongst others, locks with one, three or five locking points, various burglar-proof glazing solutions, and anti-disengagement pieces that are fixed on both the door and on its frame to prevent it from being pried open by tools such as a crowbar. Your home is protected day and night, thanks to a technology that is not visible but that can be felt at all times.
A highly insulated aluminium front door is also the key to indoor comfort, regardless of the outside temperature, and to significant savings in both your heating and cooling costs. These aluminium systems are the only ones that are equipped with an insulating central seal which is vital to guarantee their exceptional thermal insulation performance. Featuring also high acoustic insulation, our aluminium front doors preserve the quietness on the inside of your home by acting as a real barrier against the outside noise and are, therefore, also the key to tranquillity. And for even more comfort, they can be equipped with an ultra-flat threshold, perfect for people with reduced mobility.
Aluminium entrance doors custom-made to your project
The door leaf is its main design element, imprinting on the front door its style and transforming it into a modern or classic entrance. An almost unlimited choice of colours and finishes – from anodized surfaces to sandblasted structural effects, passing through all RAL colours and metallic coatings – is only a part of the many design variants that can be chosen to customise your aluminium entrance door. Combine size, shape, colour and equipment according to the requirements of your home and to your tastes, and go even further in customization by creating a fully personalized design!
A safe choice
Needing little maintenance Mestre Raposa's aluminium front doors are reliable, durable, and the perfect solution if your main concern is full protection for both your home and your family.
Our

wood front doors

have

a 10-year warranty

!
For visual examples, please visit our gallery.
Receive technical Specifications