uPVC Front Doors
High technology for even higher security.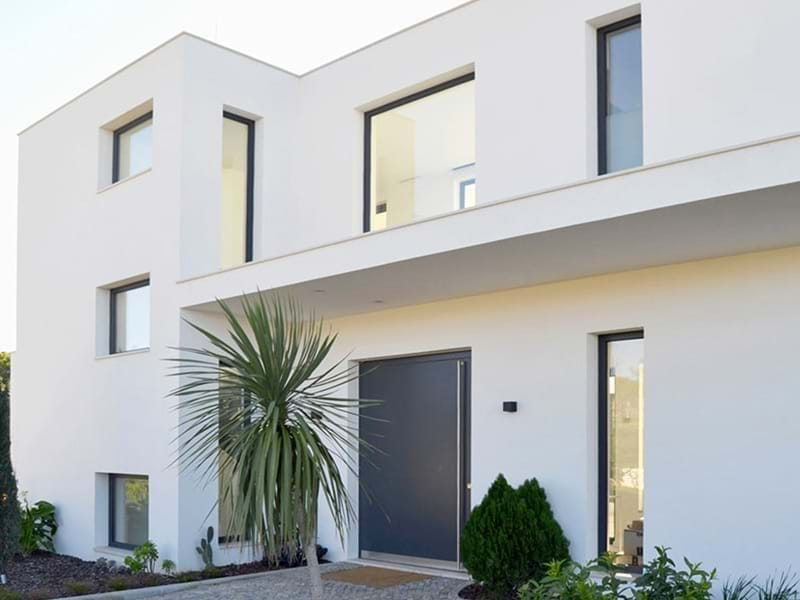 Mestre Raposa's PVC Front Doors
PVC entrance doors custom-made to your project
Mestre Raposa's PVC front doors can be single, double or even pivoting, opening inwards or outwards, and thanks to their thermoplastic mould ability can also be shaped into any form – the round, segmented or pointed arches, achievable with our PVC entrance doors will surely bring your home an elegant and refined touch. And for each one of our client's projects we can combine form and colour according to their expectations, by allowing them to choose from a wide range of finishes including laminated wood imitation, solid or metallic colours, laminated on the outside and white on the inside, laminated on both sides and so on, which means they have complete design flexibility.
Insulation and intrusion prevention
Mestre Raposa's PVC front doors systems have a construction depth of 70 or 82 mm and meet all the requirements of high quality entrance doors' installation. In this multi-chamber system, a maximum-size steel reinforcement is placed at the best possible position – right in the middle of the profile, arranged between the inner and outer chambers – thus insulating it perfectly from heat and cold.
The large rectangular steel reinforcements form a solid and closed frame, and the corners of this frame are reinforced with welded corner joints, which form a non-positive connection with the steel reinforcement, thus considerably improving its static properties and giving them an optimum base stability. This also allows them to absorb bending and twisting forces, such as those common when a break-in is attempted, and divert them through the entire steel frame around the door, therefore preventing intrusions.
Finally, the solid hardware is installed in the centre of the profile and screwed firmly onto the steel reinforcement, thus forming a single unit and providing an even higher level of security. And for even more protection against break-ins our PVC front doors can take safety insulating glass, when fitted with glazed elements, and prefabricated panels up to 39 mm thick.
With Mestre Raposa 's PVC front doors, high quality means even higher security!
Our

PVC

front doors

have

a 10-year warranty

!
For visual examples, please visit our gallery.
Receive technical Specifications
Photo Gallery