Wood-aluminium Front Doors
Combining the best of two materials for top-of-the-line performances.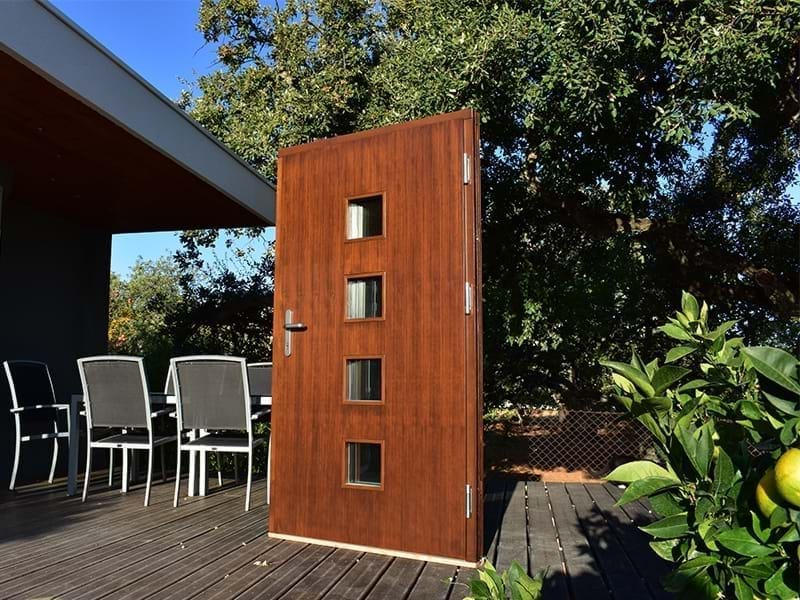 Mestre Raposa's Wood-Aluminium Front Doors
Stylish entrance door with high insulation
Mestre Raposa's wood-aluminium front doors combine the best of two worlds – wood and aluminium. The wood on the interior side is a noble and stylish material, and grants them high technical performance and elegance, with a warm and natural touch, as well as an excellent thermal insulation. The aluminium cladding on the exterior side, gives them extreme resistance, effective and permanent protection, ease of maintenance and freedom of design, as it is a 100% creative material and an architectural one, by excellence.
Our wood-aluminium front doors have lifetime durability, as the sturdiness and resistance of the aluminium provides increased weather protection, even in the most demanding and severe conditions. And they will also allow for a massive cut on your energy costs, as their wood frame ensures a high thermal insulation whilst adding a cosy ambiance to your home. Needless to say that acoustic insulation is also improved with our wood-aluminium front doors, so you just have to listen to what you want when you are home – well, kind of!
Wood-Aluminium entrance doors custom-made to your project
Mestre Raposa International's wood-aluminium entrance doors can be equipped with several anti-burglary options, for increased security, and offer you full design flexibility, as they can have different sizes, shapes and come with several different colours and finishes, on both the aluminium and the wooden part. Made of laminated wood for increased stability, they can be double, single of pivoting, and can open to the outside or to the inside, depending on your home's requirements and on the style you prefer.
A choice with two different sides
With our wood-aluminium front doors, you have on the outside an aluminium door that combines modernity, robustness and design; and on the inside a wooden door that gives your home that unique and charming atmosphere. Mestre Raposa's wood-aluminium front doors are the ideal solution for our most demanding customers and for your most special projects, whether they have a more contemporary or more traditional style, with almost no limitations.
Our

wood-aluminium front doors

have

a 10-year warranty

!
For visual examples, please visit our gallery.
Receive technical Specifications