Wood Front Doors
High protection, keeping unwanted guests out and comfort in!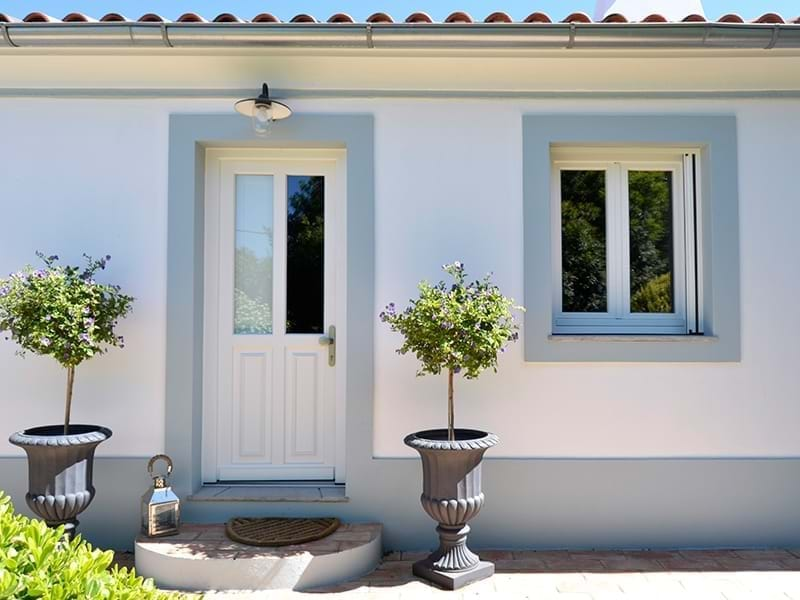 Mestre Raposa's Wood Front Doors
Durability and stability
Mestre Raposa's wooden front doors are made of laminated wood, for better durability and structural stability. With a cross section of 68, 78 or 88 x 82 mm, they can be single, double or even pivoting doors, and open inwards or outwards. Their height can go up to 3000 mm, and their width can range up to 1200 mm for single doors, and up to 2400 mm for double doors. Our profiles allow the use of different sets of handles, for freedom of choice in what accessories are concerned, and of special hinges that can withstand up to 150 kg. And because they're made of wood, their manufacturing process is an environmental-friendly one, with less energy being used in their production.
Wood entrance doors custom-made to your project
Our high-end wood front doors have multiple locking points and can be equipped with several anti-burglary options that can include armoured glass units and decorative security grilles, that embellish and protect at the same time.
Available in pine, oak, larch and meranti wood they bring a unique and welcoming charm to all houses and can be bespoke, according to your requirements and taste, to have a more modern or a more classical look. Thanks to their exclusive hi-tech design, Mestre Raposa's front doors can have different sizes and shapes, from the standard rectangular forms to more non-standard formats, including arched and even oblique doors. And if you need some extra light inside why not fit them with some glazed panels or even some sidelights?
A lovely energy-efficient choice
Our front doors feature seals on both the inside and the outside of the door, for a perfect finish, and the interior of their sandwich panels is filled with extruded polyurethane for even better insulation, thus preventing condensation. Extremely energy-efficient, Mestre Raposa's wooden front doors will contribute to increase the thermal, as well as the acoustic insulation of your home, thus keeping the environment inside exactly as you want it year-round!
Our

wood front doors

have

a 10-year warranty

!
For visual examples, please visit our gallery.
Receive technical Specifications